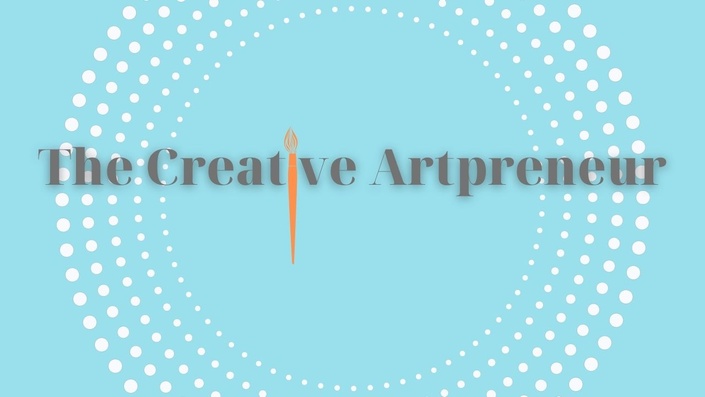 The Creative Artpreneur ~ Make over $100 per hour and Passive income? YES PLEASE
Paint Parties, Online Classes, Art Kits, Passive Art Income. I have done 90% of the work for you, now go make some money!
Watch Promo
Enroll in Course
How the heck to I survive in Southern California as a single mom with a 17 year old son who has autism? I have been wanting to share this info with your for over a year now, and its FINALLY TIME!!! I will be sharing all of the ways I generate income using my artistic and creative talents. Some of these are amazing passive income streams that have been life changing!
Paint Party Business Owners: Are you a paint party business owner looking for new designs? Instead of spending time designing your own paintings and all the social media posts, supply lists and step by step instructions, let me do it for you! In this membership you will receive at least 4 new painting designs every month. You have permission to use all of my paintings as long as you are an ACTIVE member. I will also give you access to all of the marketing materials and social media posts in Canva so you can simply just drop in your own logo, download the files and go! If you have been thinking of starting a paint party business but don't know how, I give you the basics of getting started. Imagine making over $100 per hour doing what you love! Learn how I turned my love of acrylic pouring into a paint party business! I will share with you my step by step process in how I grew my business from painting with friends to teaching at corporate events.
Don't want to have paint parties or do art kits?t: If you don't want to have parties, paint each of the provided designs and then use them for the other income stream ideas I present in the course! You don't have to ONLY SELL YOUR ORIGINAL ART! In fact that is a big mistake in my opinion. Others may disagree, but I have made much more off of my art than I could ever have imagined.
Passive income? SOUNDS GREAT TO ME! How would you like to stop trading your time for money? How would you like to be doing something you love in an exotic place or a mountain top and receive an email that you had money deposited into your account? That's what I am talking about. I will teach you the ways that I do this successfully, and it isn't that hard!
Founding members are helping me shape this program with their questions and content requests, so JOIN NOW and be a part of the artist community that changes the term STARVING ARTIST to THRIVING ARTIST.
Examples of the canva templates you get direct access to and the ability to fully edit with your own info: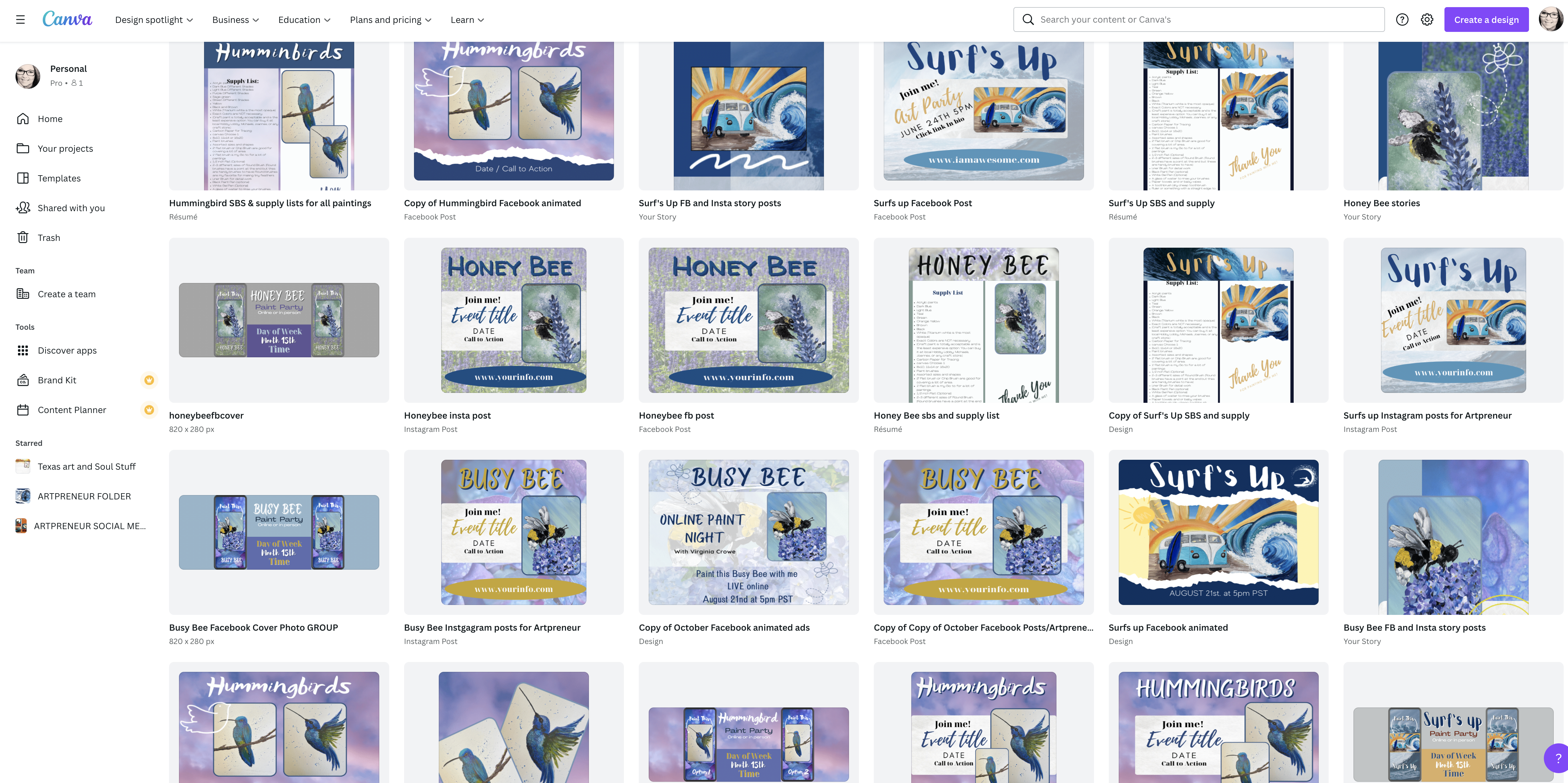 Example of the Surf's Up Painting design and materials you can download: This will be done for every painting.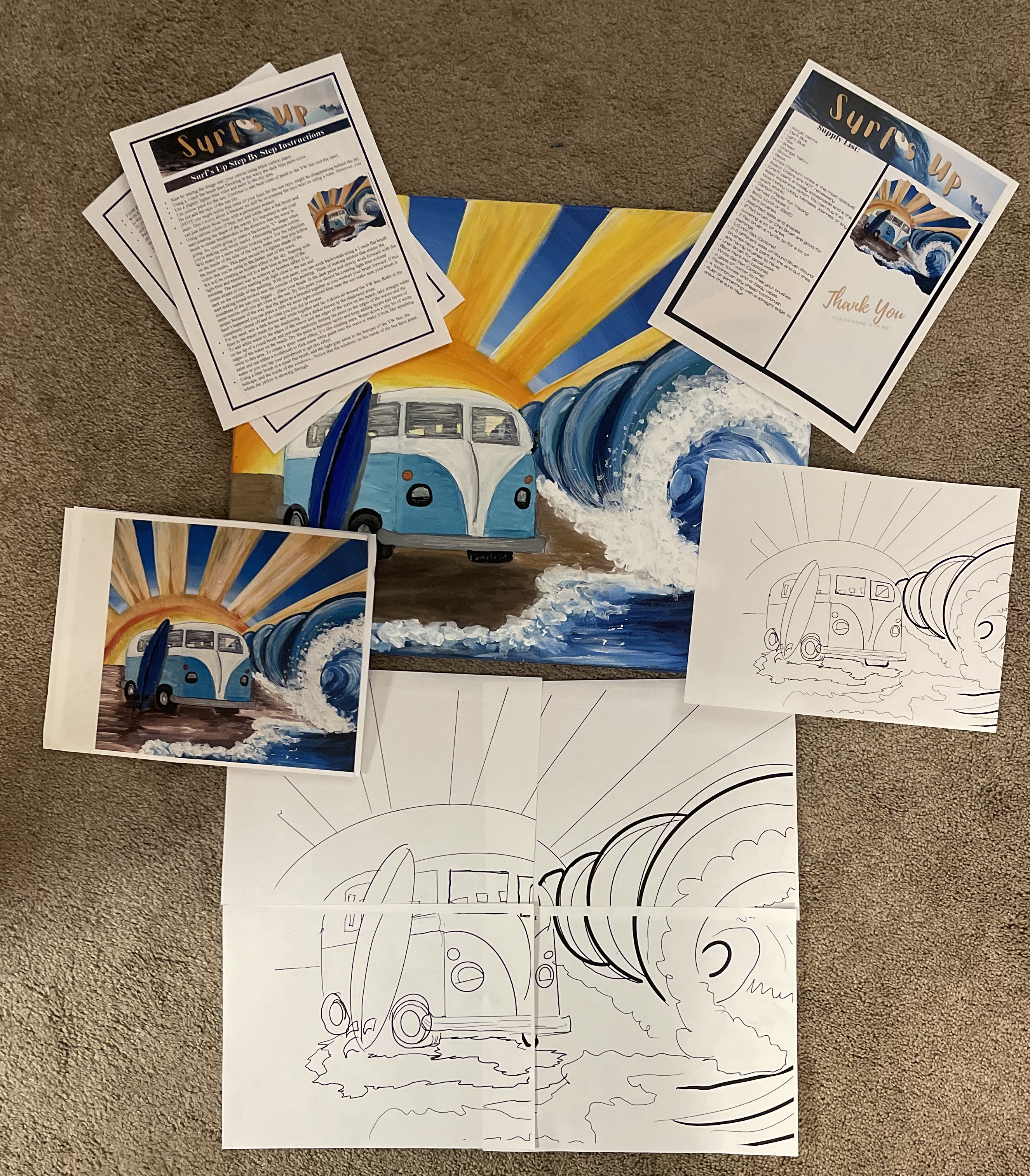 Testimonials from Students of this course:
Virginias course made everything so easy to follow. I have now thrown several parties and the word is spreading. She is right, it is a highly profitable business and I cant believe I am finally doing what I love and making money. Nancy G.- Aurora, IL
I found everything I need in Virginias course, but the facebook page she has set up for us is awesome too. It is really fun to see what other students are doing, and having a place to share ideas, and get ideas from others is awesome. I am so happy that I decided to take this course. I had no idea how to take these paintings outside of my house since they seem to be so messy, but she really has a good way of doing it and it works! Sarina L- Augusta, GA
I cant believe how easy these large group parties are to throw! I sincerely appreciate this course for all its info, and the FB group is amazing as well. Thank you Virginia for sharing your knowledge with us and making my life WAY easier. Sarah D Naples, FL
I dont have the money to open a studio, but I realize now I dont need to. Knowing I can take these classes anywhere has been invaluable. I cant thank you enough for putting this course together. I was really scared to do my first class, but it went so smoothly. I will be posting all the pictures, video and about my experience on your FB page soon. THANK YOU SO MUCH. Veronica S. Galveston, TX
Testimonials from participants of classes I have taught:
I enjoyed myself and thought the event was terrific!! I thought it was well planned and went at a good pace. She brought everything we would need and it was all set up and ready to go.
Virginia's painting workshop was fun and a great opportunity for our team to do something out of the box together. She was very professional and gave excellent direction and support. I look forward to utilizing her talents to do a future event for different audiences.

I had such a therapeutic and fun experience! I would definitely recommend this to anyone looking for a fun group activity.

I had a blast with all of my work buddies. Virginia's delivery was smooth and easy to understand. I can't believe that I like my painting!! I actually love my painting. She had everything very organized from start to finish. I hope we can do this again!

Thank you Virginia for bringing your love of art and enthusiasm to our workplace today. The staff thoroughly enjoyed having you and there has been chatter about it in the days after. The people who chose not to participate were bummed. We will be having you back in the near future.
I never thought I had an artistic bone in my body, but I LOVE MY PICTURE. my family was impressed too. This was much needed today. I have been really stressed out and it totally took my mind off of all of that for a while. Thank you! I still have a smile on my face!
Your Instructor
HI! My name is Virginia Crowe. I have had this art school open since the middle of 2018 when I left my job in the fitness industry and put all my faith in becoming an artist. (It didn't happen exactly like that, but you will hear the full story if you join my course.). I can say that I have changed careers 3x in my life and I don't regret any of them. Art is my favorite so far!!!
What I do want to tell you is that I have been able to survive off of my art in Southern California, raising my son who has autism and is now going to be 18 in a few months. I get asked all of the time how I do it. When I try to explain ALL of the things I do with my art and creative talents, people get overwhelmed, but always are amazed that I am able to do what I do. I am a survivor. I have never let failure take me down, and I am very creative and can pivot at any moment if needed. I am the queen of making money appear out of what sometimes feels like thin air, but its because of my desire to live my best life.
In this membership, I will be sharing with you ALL of the things that have gotten me to this point. All of the ways I have made a living as a creative person. I will walk you through everything that I do, and teach you step by step how to do it. Some things may not interest you, but you also might be interested in ALL of the things too. Most importantly for my Paint Party Business Owners, or those of you that desire to learn how to teach HIGHLY PROFITABLE paint parties, I have you covered with EVERYTHING you need to run your party, including the designs, marketing materials, step by step instruction sheets, supply lists, checklists and more. You know, all of those things that could take you up to 20 hours PER design to do... Ya those. Why waste your time on that when I can do it for you? Beyond that I will teach you all kinds of ways to make income off of your art images, passive and not... I bet I can excite you with several of these ideas!
I look forward to sharing everything that is in my crazy brain, and hopefully helping you create the life that you have always wanted.
Please reach out with questions. [email protected]
Virginia Crowe
Course Curriculum
Student Help Links STUDENT RESOURCES
Available in days
days after you enroll
Affiliate Program Information (MAKE MONEY BY RECOMMENDING THIS CLASS)
Available in days
days after you enroll
Frequently Asked Questions
When does the course start and finish?
This is a monthly membership. The course provides new material every month. You have NO OBLIGATION and can cancel anytime. NOTE: you will not have access to any of the content once the membership is cancelled.
How long do I have access to the course?
How does lifetime access sound? After enrolling, you have unlimited access to this course for as long as you like - across any and all devices you own as long as you are paying your monthly fee. Once that stops, you will not be able to access the course. (You can work out an agreement with Virginia on purchasing a full year up front and that you will have lifetime access to. The cost of this option is $1200.
What if I am unhappy with the course?
We would never want you to be unhappy! If you are unsatisfied with your purchase, contact us in the first 30 days and we will give you a full refund. After the 30 day period, you can just cancel any time. NOTE, you will lose access on the day you cancel.
What is a membership and how is it different from your other classes?
In my membership, I provide new content every month. You are leasing the rights to the materials as long as you are a paying member. If you ever decide to leave the membership, you may do so at any time without question, however you will lose access to the course. There is a PAY IN FULL for lifetime access payment option that will provide you 2 years of content that is rolled out monthly. The course is being launched on June 8, 2022 and new materials are being added after that. If you are reading this after June 8, 2024, you will have access to the full 2 years immediately. My other courses are single subject courses that you pay once and have lifetime access to.
Thank you for joining The Creative Artpreneur. I look forward to teaching you how to make more income using your talents and creativity. I hope that this membership teaches you something exciting with every lesson. My goal is to change the stigma of the STARVING ARTIST into the THRIVING ARTIST. Reach out to me if you have any questions!