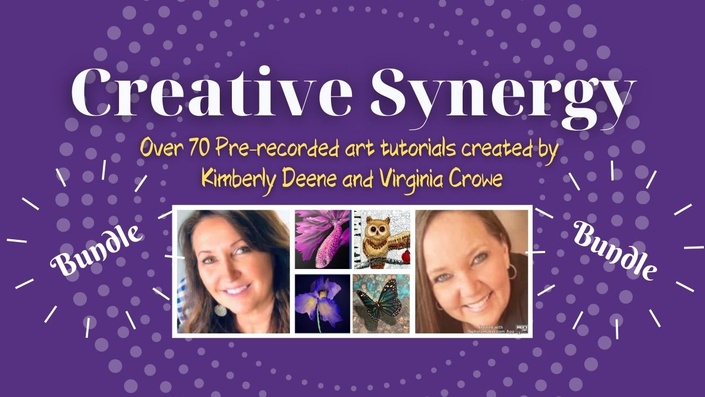 Creative Synergy Bundle
Enjoy all of the video lessons that Virginia Crowe and Kimberly Deene recorded for their Creative Synergy Membership group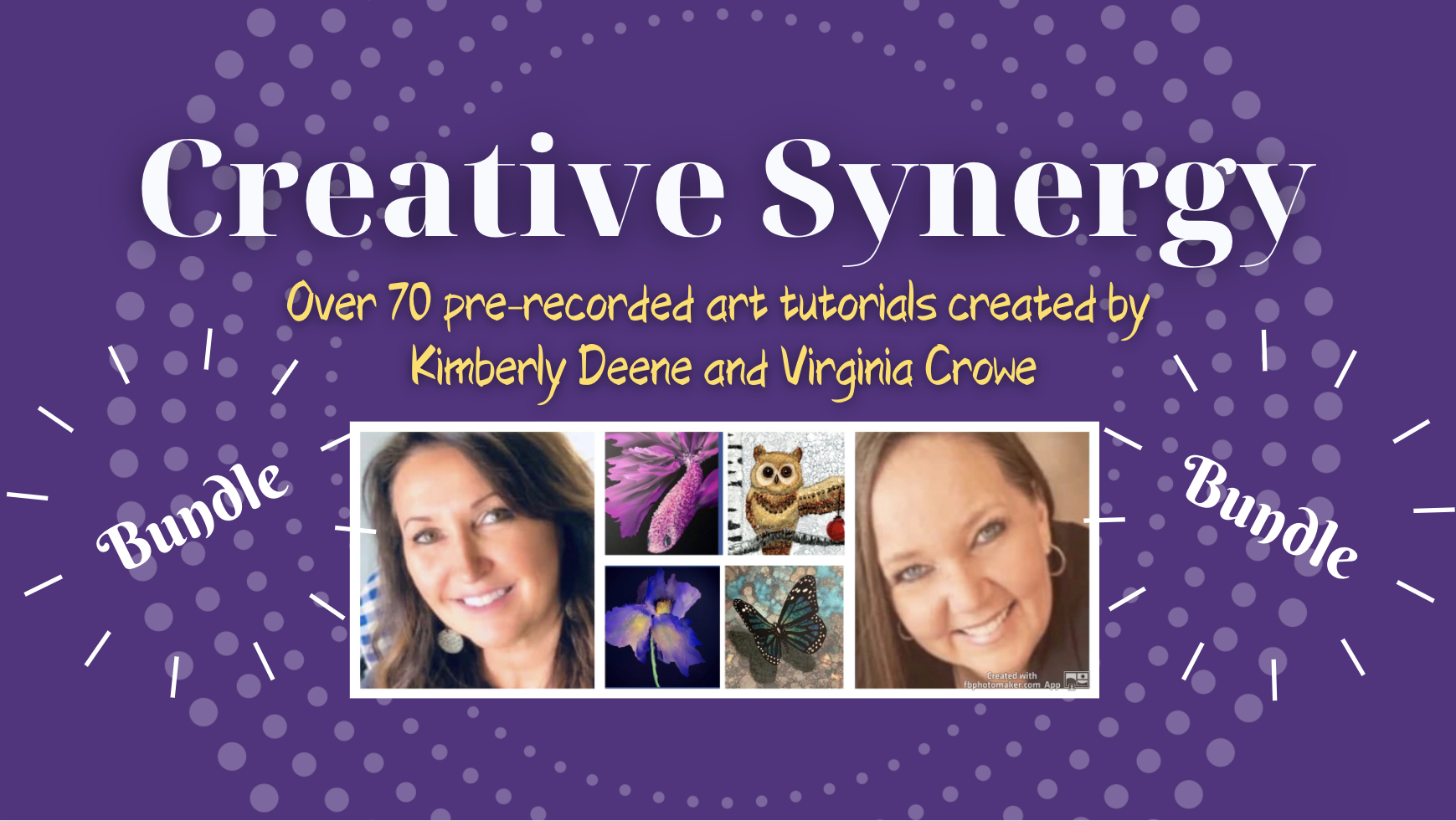 List of Creative Synergy Tutorials
1.Alcohol Ink Ornaments

Sprayed Ornaments with Virginia Crowe
Ombre Ornaments with Virginia Crowe
Plastic Wrap Ornaments with Kimberly Deene
Ink Blown Ornaments with Kimberly Deene

Resin Ocean Pouring with Virginia Crowe
Creating Art Boxes with Virginia Crowe
Aftosa Boxes with Inlaid Tiles with Kimberly Deene
Alcohol ink Wispy Abstracts with Kimberly Deene
Wispy Faded Alcohol Ink Abstracts with Kimberly Deene
Acrylic Pouring Techniques. Videos from Virginia and Kimberly

Dip Technique
Ring Technique
Dirty Pour

Coneflower in Alcohol Ink with Kimberly Deene
Silhouettes over Alcohol ink Flowers with Virginia Crowe
Sunflower in Alcohol Ink with Virginia
Collage Sunflower in Mixed Media with Virginia
Alcohol Ink Rose turns into a Poppy with Kimberly Deene
3d Butterflies in Alcohol ink with Virginia Crowe (3 tutorials with different techniques)
Rocky Seashore in Alcohol ink with Virginia Crowe
Enchanted Forest in Alcohol ink with Kimberly Deene
Ocean Waves in Alcohol ink with Kimberly Deene
Lighthouses in Alcohol Ink with Virginia Crowe
Lily Pond in Alcohol Ink with Virginia Crowe
Alcohol Ink Vases (2 tutorials) with Kimberly Deene
Palette Knife Painting and Acrylic Paint (Lily Pond) with Virginia Crowe
Drippy Alcohol Ink Paintings with Virginia Crowe
Drippy Alcohol Ink with Doodles with Virginia Crowe
Alcohol Ink Drip Paintings (3 tutorials) with Kimberly Deene
Alcohol Ink Loose Floral Paintings (2 Tutorials) with Kimberly Deene
Alcohol Ink and Resin Pendants with Guest Kathy Chapman
Acrylic Pour Jewelry with Virginia Crowe
Alcohol Ink Pendants with Kimberly Deene
Alcohol Ink Painted Iris with Virginia Crowe
Acrylic Iris Painting One Stroke Technique with Virginia Crowe
Abstract Iris in Alcohol Ink with Kimberly Deene
Abstract Iris in Alcohol Ink on Black Cardstock with Kimberly Deene
Alcohol Ink Poppies with Virginia Crowe
Encaustic Wax Poppies with Kimberly Deene
Encaustic Wax Abstract Iris with Kimberly Deene
No Brush Alcohol Ink Mountains with Virginia Crowe
No Brush Drip Landscapes with Virginia Crowe
Encaustic Landscape with Kimberly Deene
Mountain Scene in Alcohol Ink with Kimberly Deene
Textures in Mixed Media Series (Several videos) with Virginia Crowe
Alcohol Ink on Galvanized Metal with Virginia Crowe
Raccoon and Pumpkin in Alcohol Ink with Virginia Crowe
Alcohol Ink Painted Silk Scarves (2 Tutorials) with Kimberly Deene
Alcohol Ink Painted Bottles and Mini Lights with Kimberly Deene
Winter Trees in Alcohol Ink on Black Cardstock with Kimberly Deene
Holiday Owl Painting in Alcohol Ink with Virginia Crowe
Happy Snowman in Alcohol Ink with Virginia Crowe
Masking and Alcohol Ink Birch Trees with Virginia Crowe
Masking and Watercolor Birch Trees with Virginia Crowe
Masking experiments with mixed media with Virginia Crowe
Masking abstract doodles with Kimberly Deene
Masking abstract florals with Kimberly Deene
Fish in Alcohol Ink with Kimberly Deene
Alcohol Ink Bunny with Kimberly Deene
Watercolor Bunnies (Loose) with Virginia Crowe
Abstract Color Animal Project with color value lessons (Several videos) with Virginia Crowe
Multicolored Fish with Shimmer on Black Cardstock with Kimberly Deene
Colorful Pet Portrait with Kimberly Deene
Loose Wispy Florals using Camera Lens Cleaner with Kimberly Deene
Collage Floral Project with Kimberly Deene
Collage Card Project with Virginia Crowe
Simple watercolor floral projects with Virginia Crowe
Wispy Florals using Hair Dryer with Kimberly Deene
Wispy florals using Dagger Brush for Leaves with Kimberly Deene
Summer Vibes Sunflower Project on Dura-lar with Virginia Crowe
Over 10 Live Demonstrations on Various Projects with Kimberly and Virginia

Your Instructor

You are gaining access to Creative Synergy with Kimberly and Virginia. We have archived our membership but have bundled all of our pre recorded videos into one class. You will gain access to our facebook group where all of the videos are housed.
Kimberly Deene:
Kimberly Deene Langlois is a self-taught mixed media artist residing in Raleigh, North Carolina. Her creations are inspired by her favorite music, the beautiful outdoors, and her self-proclaimed "inner hippie".
From a lineage of "southern mamas", Kimberly grew up in Eastern North Carolina surrounded by creativity. She wore beautifully hand-crafted dresses as a child, lovingly sewn by her Mama, and lived in a home adorned with colorful, handmade curtains, pillows, and bedding. As a young girl, she was awestruck as she witnessed her mother fearlessly tear fabric off an old sofa and completely transform it into something beautiful and fresh. Art was a way of life and something that felt very natural. Later in life, as a mother of two herself, art was encouraged and nurtured in her children … remnants of paint and glitter were embedded in the wood grain of the kitchen table and framed artwork was proudly displayed on the walls.
Kimberly has experience in acrylics, pastels, encaustic wax, and other traditional media; however, her true love is for the contemporary use of alcohol ink which she began working with in 2016. Her series of impressionist blooms showcases the vibrancy and organic flow of this medium. The centers of her flowers carefully capture the light and have a three-dimensional aspect which is the common thread in this series.
In 2017, Kimberly retired from a 30-year career in the insurance industry and now works full time in her home studio teaching art online and in classroom-based workshops. Kimberly's work has been exhibited in galleries in North Carolina and Virginia, including solo shows and juried exhibitions, and has also been published online.
"Like nature's art, every alcohol ink design has a unique life of its own. I pour the inks onto paper and allow them to flow and mingle organically as they're manipulated with air, gravity, or an occasional brush or instrument. It's always exciting to watch each piece evolve and come to life."To read
Her website is located Here: https://bit.ly/3iRHtG8
Virginia Crowe:
"Creative HeARTS Studio was born in 2018 when I decided that I no longer wanted to spend my life doing anything I didn't enjoy. I had recently removed myself from an abusive marriage and I was in therapy trying to heal from the psychological effects of the abuse. It was recommended that I try a creative outlet. I have many artistic family members, but I hadn't really explored art due to my own fear of failure. My therapist told me that I needed to get out of my own way and try anyway, so I did. To my surprise I had some talent. Art became a part of my daily routine and I enjoyed it so much that I wanted to share the experience with others. I began teaching classes, individuals, throwing paint parties and eventually created online courses. I now do commissioned work and sell my art as well. I absolutely love what I do.
Website: https://bit.ly/3gL4zvs
Course Curriculum
List of the Tutorials Found inside the Facebook Group
Available in days
days after you enroll
Frequently Asked Questions
Where is the content?
Once you have paid you will gain access to our Facebook Group where all of the videos are located.
How long do I have access to the course?
All of your course content is located on our Facebook Group Page. Once you have paid, you will request access to the group and provide your sign up details. Inside the group you have access to all courses. Pick and choose what you want to do. The only thing we cannot promise is what facebook does with our group. Other than that you have full access.
Thank you so much for joining us. Please make sure you sign into Facebook and join our group where your content is located. Kimberly and I have archived the group which means we are not adding new content, but you have access to over 75 video tutorials already uploaded. You will find EVERYTHING under the GUIDES section in the group. The Link is found inside the course.